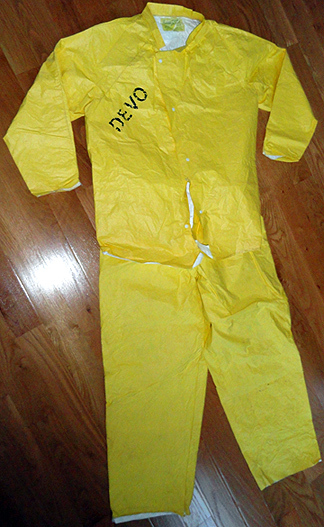 DEVO Stageworn Yellow Suit
Melbourne, Australia 1982

Worn by DEVO onstage and thrown into the crowd. Caught by Stuart Hamilton, who donated it to the Devo-Obsesso archives. Thank you, Stuart!

SEE TAG

Here's what Stuart remembers about the DEVO 1982 shows:

"I attended all three concerts at Festival Hall in Melbourne in 1982 with 3 other Spuds. The concerts were all-seating affairs, and we were back in row 15. Just as Devo hit the stage, we rushed forward and stood in the front row. I remember everyone going crazy and having a fantastic time. One girl reached out and grabbed Mark's leg and wouldn't let go. He had to kick her hand off to get loose! She was actually quite proud of that. During Jocko Homo, Mark kept putting the microphone in front of us for the "we are Devo" line. So I can actually say that I sang with Devo during a concert. He must have realised that we were true Devotees, as he kept coming back to the four of us. Great memories.
Every show was fantastic, especially when we were able to catch the yellow suits as they were flung into the crowd. I have kept the suit as a prized possession all these years, but I realise that it's correct home would be in the archives with your good self. I hope my buttons, letters, action vest and collar are of use to you as well.
For the last tour, I celebrated by getting a Devo tattoo on my arm. It just felt like the right thing to do. Maybe I'll get another one before they arrive in Australia later this year. We must repeat."

- Stuart Hamilton/Australia