Bob1's "Monster Man" Video Outfit

Bob "Bob 1" Mothersbaugh wore this in DEVO's "Monster Man" video circa 2012..and also on the TV show "Monster Man" (SyFy Network) which aired in 2012.

Camo jacket & pants.

SEE NAME ON TAG
SEE SHOULDER PATCH

Photo of Bob1 at video shoot: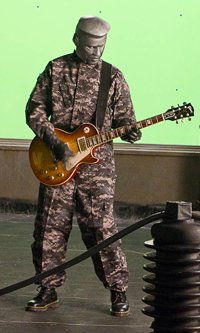 Thanks to Bob1 for donating this to the archives!