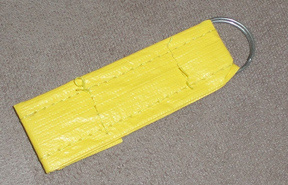 Yellow Suit Scrap Key Fob
(Fan-made Keychain)

Ted Ganchiff of Chicago, IL says this about his custom-made Key Fob:

This is one of the key fobs we made out of Mark Mothersbaugh's tyvek suit. The suit actually spent two weeks splayed across the ficus tree in my living room, much to my son's delight but to my wife's increasing disapproval. So I had the suit made into key fobs and gave them to my friends. (including those who attended the two concerts in Chicago with me...One of those shows is the show at which I caught this yellow suit). Those concerts were easily the best concerts I've been to in years.