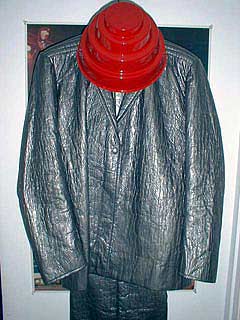 Freedom Of Choice Suit

Sitting high atop the Devo pile - one of the silver/gray "elephant skin" suits worn during the Freedom Of Choice tour, 1980.

This suit probably belonged to Bob1, as indicated by some writing on the inside of the suit. These suits are also featured on the cover of the Freedom Of Choice LP.

Another wonderful gift from Bob and Lisa Casale.

---
(Photo also features vintage Club Devo Energy Dome).