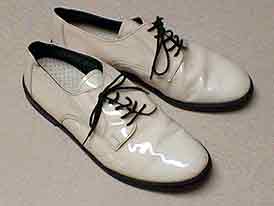 Alan Meyer's White Shoes

White patent leather shoes worn by drummer Alan Meyers. Have "AL" written in tape on the bottom sole. Complete with Odor-Eaters!

These are featured in the "Day My Baby Gave Me A Surprise" video, and the Honda Scooter TV advertisement that Devo did in the 1980's.

Gifts from Bob and Lisa Casale.

---