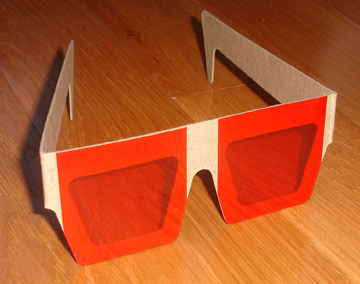 3D Glasses - Red Lenses
Cardboard Prototypes 2009

Two DEVOted spuds, Darren Davison and Chris Kangos, were responsible for manufacturing these extremely accurate re-makes of DEVO's vintage 3D glasses.

Created to look exactly like the glasses DEVO wore with the insides of the specs facing out.

This specific pair was specially made with red-tinted lenses...and were given to Michael Pilmer/DEVO at the November 8th, 2009 show in Seattle.

Thanks, Darren & Chris!
Your work is flawless.