ATTENTION SPUDS!
A full show report from The DEVOtional 2008
is coming soon to Devo-Obsesso.com!


(Expect it later in September)

It all happened on
SAT. AUGUST 30th, 2008
BEACHLAND BALLROOM
CLEVELAND, OHIO
Featured Special Guests, Bands, Vendors,
Rare Audio & Video, and more...!
AND THERE WAS ART, TOO:
FRIDAY
AUGUST 29th
(The night before the DEVOtional)

The DEVOnian Art
of KRK Ryden

at Asterisk Gallery in Cleveland, OH.
-----------------------------------------------------

Artist KRK Ryden has worked with DEVO since the 1980's, when he illustrated for their catalogs, fanzines, and merchandise.

KRKLAND.COM

And on the same night at Asterisk:





Rev. HV Monkey's


ENERGY DOME
ART SHOW
Jocko Dome-o

A benefit show for
Rachel Bevilacqua

Featuring Energy Dome art by:

Winston Smith,
KRK Ryden,
Jeff Warmouth,
Rev. Ivan Stang

and more!
FULL DEVOTIONAL '08 DETAILS AT BOOJIBOYSBASEMENT.COM


GET YOUR OWN NOT NECESSARILY BEAUTIFUL, BUT MUTATED
CD COMPILATION OF DEVOLVED COVERS BY DEVOTEES!

(A new NNBBM CD is offered every year at the DEVOtional)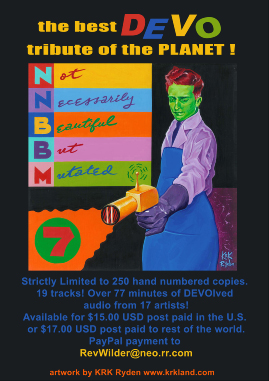 SEE REPORTS FROM A FEW PAST

D

E

V

O

TIONALS:
DEVOtional 2007
DEVOtional 2006
DEVOtional 2005